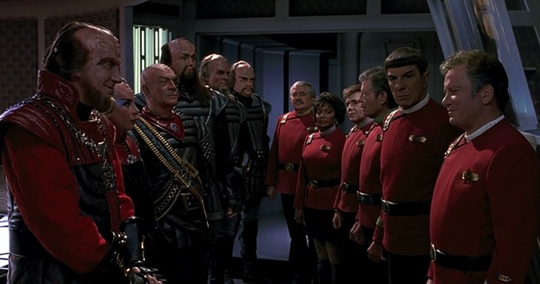 It is Undiscovered Country week on the Incomparable network! Following up on the Incomparable episode covering Star Trek VI Scott has assembled a crackerjack crew to discuss the final TOS movie.
This is a movie all the panelists love, despite what our conversation may lead you to believe. But nothing is without flaws, and we talk about those for awhile.
April 8, 2021 • 1 hour, 14 minutes • Scott McNulty with Moisés Chiullan, Joe Rosensteel and Shelly Brisbin
---
In space, all warriors are cold warriors! An ecological disaster leads to the breakup of an enemy empire, but in "Star Trek VI: The Undiscovered Country" it's the Klingon moon Praxis subbing in for the Soviet power station Chernobyl. Kirk and company struggle with their animosity toward the Klingons, but we are more concerned with what graduate school Gorkon's daughter went to, the Klingon guard who carries a box, the one Klingon who laughed at McCoy's joke, the importance of gaseous anomalies to Federation politics, and the lack of respect given to the Enterprise court reporter. Discussing this movie must've been our lifelong ambition.
April 4, 2021 • 1 hour, 44 minutes • Jason Snell with Erika Ensign, Steven Schapansky, David J. Loehr, Dan Moren and John Moltz
---
---