The Adventures of Timmy Preston in Farfutureland
On their way to a science fair, Timmy and the Galaxy Scouts find themselves instead in the World of Tomorrow…or many worlds of many tomorrows… and yesterdays… not to mention the Happiest Place in the Galaxy…or is it? With our heroes scattered across time and space, will any of them be home in time for Christmas? Stay tuned!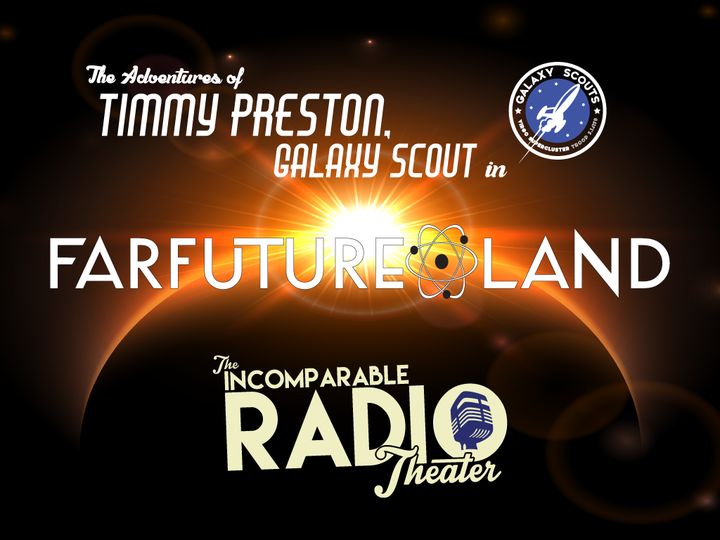 Listen to this episode (50 minutes)
Show Notes
Written by David J. Loehr
Directed by Serenity Caldwell
Produced by Jason Snell
Edited by Jason Snell and David J. Loehr
Original music by Christopher Breen
Philip Michaels as Incomparable Radio Theater Announcer
Lex Friedman as Finley Quality Network Announcer
Andy Ihnatko as Timmy Preston Announcer
Steve Lutz as Timmy Preston
Monty Ashley as Scoutmaster Greene
Kate Glasheen as Sarah Sidney
Serenity Caldwell as Penelope
Steven Schapansky as Alex
Michael B. Johnson as Dr. Chuck
David J. Loehr as Galt Sidney
Travis Bedard as Benjamin Vultan Pierce
Jason Snell as Arcturus
Erika Ensign as Jasmine
Scott McNulty as Dungeon Master
Lisa Schmeiser as Beatrix
Austin Tichenor as Harold Hill
Lauren Snell as Marian
Moises Chiullan as Scoutmaster Songh
Robot voices by Monty Ashley, Jason Snell, Glenn Fleishman, David J. Loehr, Moises Chiullan.
Commercial interruptions by the Incomparable Radio Theater players, featuring Iain MacKinnon as Donald Wenceslas.
Subscribe to Incomparable Radio Theater