Introducing 'Pod4Ham'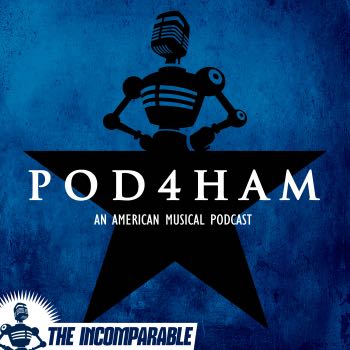 The musical "Hamilton" has become a pop-culture phenomenon. I can tell this because the my friends and collaborators have become infested with approximately 40 different earworms, all courtesy of this relentlessly catchy and intelligent musical. It's the hottest ticket on Broadway, which is why we're all just listening to the Original Broadway Cast Recording over and over again in lieu of actually attending. A bunch of us rushed out and read Ron Chernow's biography of Alexander Hamilton, which inspired the musical.
Somewhere in there, I got a stupid idea. What if you did a podcast about "Hamilton" and gave it the attention it deserved. What if you took it song by song, through all 46 tracks on the soundtrack? You'd have a fun miniseries that would stretch through 2016. And you could call it Pod4Ham, in the spirit of the "Ham4Ham" shows done in New York City for people waiting in line for the daily ticket lottery for "Hamilton."
The thing is, I just don't have time to take on another podcast. So I asked who would be interested in being on Pod4Ham, and I got deluged with interest—not just from regular Incomparable panelists, but from everyone they knew. And so a plan was hatched: Gather different panels of people for each song, so there's no one host, but a whole chorus of voices with different perspectives on the songs and the work as a whole.
Today episode 1 of Pod4Ham has arrived. We'll see how this grand experiment goes! You can subscribe on iTunes or via RSS. There are a million things we haven't done, but just you wait…
—Jason Snell
Posted February 4, 2016 8:53 AM.